ARE YOU WONDERING WHAT TO DO ON LAKE GARDA ?
We can book excursions to cities of art (Verona, Venice), the Dolomites and Gardaland.
We arrange mountain bike excursions, walks on Monte Baldo, Nordic walking, sailing courses, windsurfing, kitesurfing, kayaking, free climbing, paragliding, horse riding, tennis, diving courses, rafting.
If you can think of anything else, let us know and we will do our best to please you.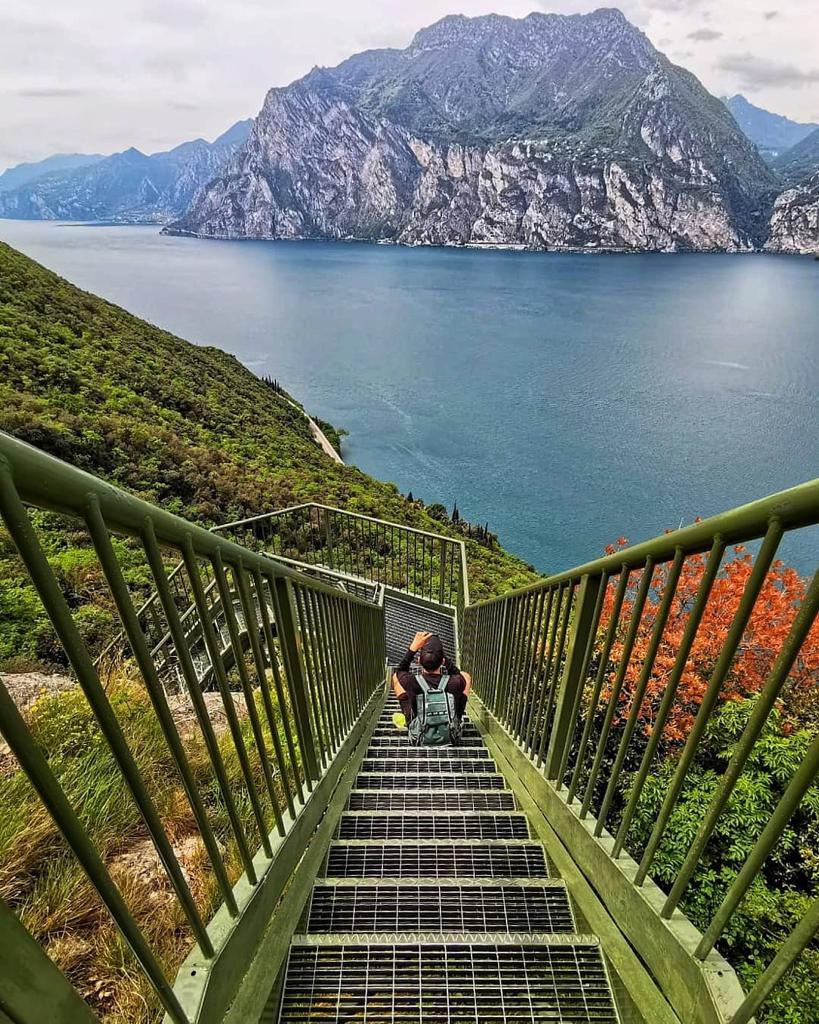 Malcesine is one of the most beautiful places on Lake Garda. Its particular position, between the shores of the lake and the slopes of Monte Baldo, allows anyone to choose how to spend their leisure time, satisfying everyone's needs. Malcesine certainly has the best beaches on the Venetian shore of Lake Garda: there are both free and equipped beaches. In any case, even the free beaches are surrounded by bars and restaurants, so comfort is always guaranteed. In addition to sunbeds and deckchairs, it is also possible to rent windsurfing, sailing, diving and other equipment.
Given its particular position, Malcesine offers the possibility of practising a wide range of sports. These include windsurfing and sailing in general, which, thanks to the characteristic winds (Ora and Perler) of Lake Garda, are the "national sport" of this area. In addition, there are of course all the "water" sports, such as kite-surfing, canoeing and diving. The proximity of Mount Baldo, and the possibility of accessing it comfortably and quickly by cable car, make it an ideal base for paragliding and trekking. Mountain bike lovers will be spoilt for choice among the many tracks available. Finally, this area is a paradise for climbing on a multitude of cliffs, all of which have a "lake view" and can be climbed all year round.
A ferry service allows you to reach places such as Limone and Riva del Garda in complete comfort and without the hassle of traffic, to visit the characteristic historical centres and their buildings of cultural interest. If you want to go further afield, Malcesine is close to Rovereto (where you can visit the Mart Museum, the Campana dei caduti, the Casa d'Arte Depero), Trento (with its Muse Museum, the Castello del Buonconsiglio and other places of interest) and Verona (the Arena, Juliet's balcony, Castelvecchio, and much more).
Monte Baldo, which rises over 2,000 metres above Malcesine, has always been a destination for trekking enthusiasts who prefer a holiday in direct contact with nature. It can be easily reached by cable car, one of the most modern and advanced cableways in the world, whose rotating cabins offer a unique 360° panorama. On Monte Baldo there are a number of paths for excursions of varying degrees of difficulty, dotted with mountain huts and malghe where you can enjoy traditional cuisine. It is not unusual to spot chamois or marmots. The environment of Mount Baldo is particularly popular with mountain bikers and horse riders.